3" LED Downlight Remodel Adj and New Construction IC
Product Information
3" LED DOWNLIGHT REMODEL ADJ AND NEW CONSTRUCTION IC
The ELEMENT 3" LED Downlight Remodel Adjustable IC offers a below-the-ceiling installation where a seamless, mud-in look or a traditional flanged appearance is desired in an insulation-contact application. Additionally, the New Construction Mounting option, offered in the same product series, provides additional installation flexibility and a small housing that fits into tight ceiling conditions. This product utilizes a similar LED module as our ELEMENT 2" Platform to accommodate the smaller housing, and features a 40° tilt and 361° rotation. The Flangeless mud plate is integral to the housing while still allowing below-the-ceiling servicing and installation. Die-cast trims are offered in Square or Round, Beveled or Flat, and Flanged or Flangeless. Finishes match ELEMENT New Construction trims for a coordinating aesthetic.
IC-Rated and airtight
Tool-free aiming and locking: 0°-40° tilt and 361° rotation
Flangeless mud plate allows below-the-ceiling servicing and installation
Trims match the ELEMENT 3" Platform
Suitable for confined plenums
Available with optional New Construction mounting hardware
Reverse-phase, forward-phase, and TRIAC dimming down to 1%
Multiple trim reflector options are available
Solite Soft Focus lens options are available
2-step standard color binning
Every ELEMENT trim is die cast aluminum. No seams. No warping. No sagging.



SQUARE TRIMS




FLANGELESS BEVEL






FLANGELESS FLAT






FLANGED BEVEL






FLANGED FLAT





ROUND TRIMS




FLANGELESS BEVEL






FLANGELESS FLAT






FLANGED BEVEL






FLANGED FLAT




Housings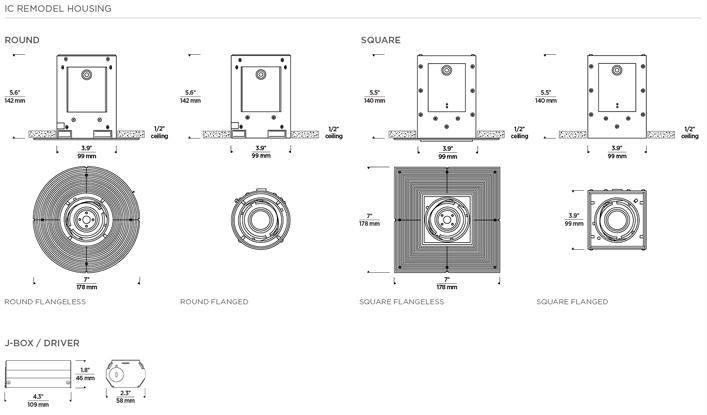 IC AIRTIGHT

NC IC AIRTIGHT NEW CONSTRUCTION MOUNTING
Applications