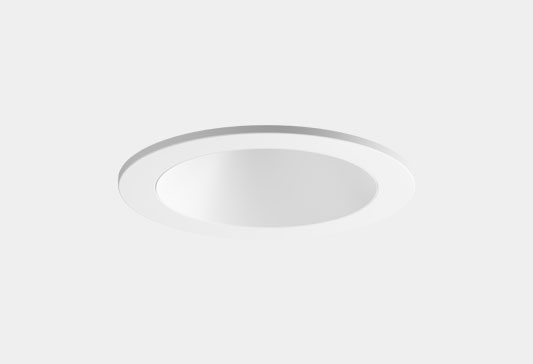 ENTRA™ CL 2" LED Downlight
Product Information
ENTRA CL 2" LED DOWNLIGHT
The ENTRA CL 2" LED Adjustable, Fixed, and Wall Wash Downlights offer a cost-effective, small aperture, choice that delivers architectural-grade aesthetics and quality for residential, multi-family, and hospitality applications. Engineered for high-performance and reliability, ENTRA CL 2" is easy to configure with a feature set that offers flexibility without an overwhelming list of options. Modules are available with three Static White CCT options, 3000K - 1800K warm color dimming, and four field interchangeable optics (20°, 30°,40°, and 60°). Trim options include Flanged or Flangeless (mud plate included) and Round or Square in Satin Silver, Champagne, Black, or White finish. The white finish is field-paintable.


Adjustable (35° tilt, 360° rotation), Fixed, or Wall Wash options
2700, 3000K, 3500K, or Warm Dim 3000K - 1800K
Multiple lumen output options
Includes 40° optic; Field-changeable 20°, 30°, and 60° optics ordered separately
Flanged or Flangeless ceiling appearance
Airtight IC and Chicago Plenum Rated

Every ELEMENT trim is die cast aluminum. No seams. No warping. No sagging.



SQUARE TRIMS




FLANGELESS ADJUSTABLE






FLANGELESS DOWNLIGHT






FLANGELESS WALL WASH






FLANGED ADJUSTABLE






FLANGED DOWNLIGHT






FLANGED WALL WASH





ROUND TRIMS




FLANGELESS ADJUSTABLE






FLANGELESS DOWNLIGHT






FLANGELESS WALL WASH






FLANGED ADJUSTABLE






FLANGED DOWNLIGHT






FLANGED WALL WASH




| White Trim | Black Trim |
| --- | --- |
| White Trim, Black Reflector | Black Trim, Black Reflector |
| White Trim, White Reflector | Black Trim, White Reflector |
| White Trim, Champagne Reflector | Black Trim, Champagne Reflector |
| White Trim, Silver Reflector | Black Trim, Silver Reflector |